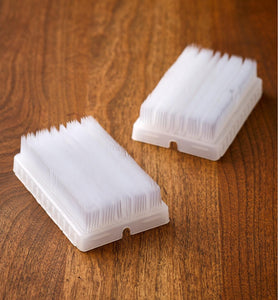 Intended for use directly on skin, the brush is gentle but very effective.

What's amazing is how well it winkles dirt out of your cuticles and from under your fingernails; this solves a constant problem for gardeners and woodworkers. Only 2" × 3", it has 1440 individual bristles that are subtle but insistent, cleaning hands far better than any combination of stiff bristles and cloths.

These are great used as soap savers too!  Place it bristles up beside your sink and rest your bar of soap on it!